Joachim Bottieau and Ono Shohei shine in Dusseldorf
Comments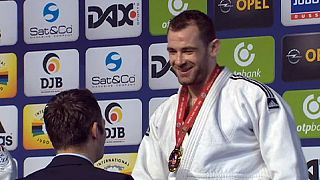 Belgium's Joachim Bottieau produced a stunning performance to outclass local favourite Sven Maresch in the under 81 kilo final at the Dusseldorf Grand Prix on Saturday.
The 26-year-old looked in control throughout the bout and prevailed thanks to a clinical waza-ari.
The bronze medals were won by Bulgaria's Ivaylo Ivanov and Germany's Dominic Ressel, who gave the home crowd something to cheer about with a thrilling win over European Open gold medallist Giorgi Papunashvili. In front of a packed-out arena, the 22-year-old looked in great shape and scored an early yuko before sealing the title with an impressive ippon, to the delight of the thousands of screaming judo fans who gathered at the Mitsubishi Electric Halle to watch the action first hand.
In the under 73 kilo category, Ono Shohei downed South Korea's Changrim An in the semis and carried his fine form into the showpiece match. The Japanese, who took gold at the 2013 World Judo Championships, dominated his opponent Rustam Orujov from the outset, eventually winning by waza-ari.
In the women's event, Bernadette Graf proved unstoppable in the under 70 kilo class, edging out Japan's Arai Chizuri in the final. After a relatively slow start to the contest, the Austrian stepped it up a gear in the second minute with a devastating ippon to seal the win.
Alice Schlesinger came close to handing Britain their first gold medal of the event in the under 63 kilo final. The 27-year-old, who completed the podium at the 2009 World Championships in Rotterdam, stunned Israel's Yarden Gerbi in the semi-finals but was then unable to trouble Slovenia Tina Trstenjak, who won by ippon with 1 minute and 36 seconds left on the clock.
Surprise of the day
Day two was marked by Antoine Valois-Fortier's loss in the under 81 kilo category. The 25-year-old, who pulled off several upsets in 2012 to take bronze at the London Games, was tipped to cruise through but his preliminary round opponent Pedro Castro was in no mood to be pushed around. The Colombian got off to a strong start and triumphed by ippon after 43 seconds.
Bottieau pakt voor tweede jaar op rij goud in GP Düsseldorf en mag naar Rio https://t.co/z3GNpvra79pic.twitter.com/7o0B9YYF7r

— sporza (@sporza) February 20, 2016