Migrant crisis: Eurotunnel asks UK and France for millions in compensation
Comments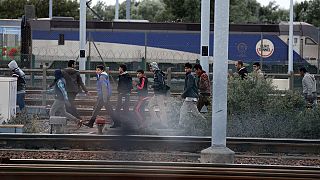 Channel tunnel operator Eurotunnel says the migrant crisis at the UK-France border has improved thanks to more British-funded fences and more French police officers.
But it is asking the two countries for 29 million euros in compensation for lost revenue due to interruptions to services caused by migrant activity.
Eurotunnel carries Eurostar high-speed trains between Paris, Brussels and London as well as shuttle trains containing passenger cars, coaches and freight trucks.