EU warns Austria over daily migrant quotas
Comments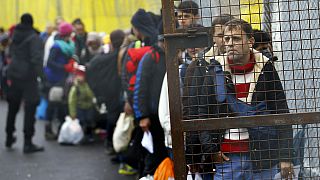 In the latest angry rift in Europe's migration crisis, new Austrian limits on the numbers of refugees allowed to cross its borders have infuriated the EU.
We are questioning if this decision is in line with European law
Each day from Friday, Austria will restrict new asylum claims at the border to 80 while letting a maximum of 3,200 other migrants transit its territory – caps branded illegal by critics.
"As far as Austria is concerned, I have to say that I don't like the decision and we are questioning if this decision is in line with European law. This is under exam for the time being," European Commission President Jean-Claude Juncker told reporters in Brussels where EU leaders have gathered for a key summit.
The migration crisis, which saw more than a million people reach Europe last year, opened deep rifts between EU states, which are trading blame and increasingly resorting to ad-hoc national solutions despite Brussels' calls to prevent them.
To try to ease the pressure, police chiefs from countries along the so-called Balkan migration route have agreed to jointly register refugees and organise their transport straight to Austria.
From now on the process will take place as the new arrivals cross from Greece into the Former Yugoslav Republic of Macedonia. It will identify and take biometric data from the migrants and determine whether they come from countries deemed dangerous, such as Syria, Iraq or Afghanistan.
6 sisters wait in the warmth at a UNICEF child-friendly space in #fYRMacedonia. Via @Veronique8802pic.twitter.com/ejVwkdQrNa

— UNICEF (@UNICEF) 18 Février 2016
It won't however grant them status as asylum seekers, a step that will take place in Austria, Germany or whichever other country they might travel to.