Austria defiant as EU warns migrant quota plan illegal
Comments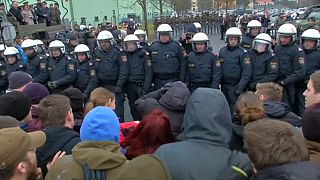 Austria has vowed to stick with its plan to cap the number of migrants it will allow to cross its borders.
The defiant stand comes as the EU warns the country that its planned quota system is against European law.
Austria's Chancellor has backed the plan announced by the interior minister to impose daily and hourly migrant quotas modelled on those in Germany.
"Politically I saw we'll stick with it. Sweden and Germany will have to speak for themselves but it's unthinkable for Austria to take on the asylum seekers for the whole of Europe," Werner Faymann said before a meeting of European leaders in Brussels.
"After 100,000 refugees we can't tell the Austrian people that it will just continue like this," he added.
The European Union's Migration Commissioner Dimitris Avramopoulos wrote to the Austrian government on Thursday to warn that the daily cap on migrant numbers would break the block's laws.
Despite the criticism, Austria's Interior MInister Johanna Mikl-Leitner said it would "begin tomorrow" with its plan to let no more than 3,200 migrants onto its territory per day, either to travel on to Germany or apply for asylum in Austria, and introduce a daily limit of 80 asylum claims.
Meanwhile police chiefs from countries along the so-called Balkan migration route have agreed to introduce the joint registration of refugees and organise their transport straight to Austria.
The meeting in Zagreb was attended by representatives from Austria, Slovenia, Croatia, Serbia and the Former Yugoslav Republic of Macedonia.
"Our goal is to make the transport of migrants from Greece and (the former Yugoslav Republic of) Macedonia towards Austria as painless as possible and to avoid refugees being turned back, which is happening now, because each country has been profiling incoming migrants on its own," said Vlado Dominic, head of the Croatian Police force.
Earlier this week the Greek and (FYR) Macedonian governments announced drastic new measures to increase border security. Each migrant entering the country will be subjected to a 30-minute interview to verify his or her nationality. New registration documents will help the authorities share information faster with Balkan nations.
Austria has erected barriers and a four kilometre-long fence at its main crossing for migrants at Spielfield. Its stance may add to the pressure on its southern neighbours.
The country has largely served as a corridor into neighbouring Germany for the hundreds of thousands of people, many of them Syrian refugees, who have streamed onto its territory since the two countries threw open their borders to them in September.
It has, however, taken in a similar number of asylum seekers to Germany in proportion to its far smaller population. Numbers coming in from Slovenia have fluctuated widely over the past year, from as many as 14,000 a day to the latest figures suggesting that around 1,000 are currently braving the winter cold every 24 hours.