Red Bull unveil new design for upcoming F1 season
Comments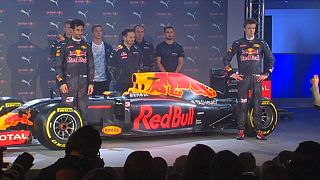 Red Bull unveiled a new look for a new era on Wednesday, with a warning that hardly lifted Daniel Ricciardo's heart as the Australian driver gears up for the start of the Formula One season in Melbourne next month.
"It's going to be a season of evolution for us," principal Christian Horner told reporters at the launch of the team's 2016 livery and Puma-designed apparel.
"It's probably going to be a season of two halves. The first half is going to be less competitive than the second but we are expecting to make significant progress during the year."
Ricciardo, who won three races in 2014, suffered last year when his team finished fourth overall with no victories.
The driver accepted that the situation would still be difficult.
"I think it's sensible, rather than getting us excited for nothing," he said. "If you come out in Melbourne and Christian and everyone is saying 'it's awesome and the aerodynamics and everything…' and then it doesn't work, it's demoralising.
"I think it's realistic that we will need a bit of time to make strong improvements from last year."
Winners of four drivers' and constructors' titles between 2010 and 2013, Red Bull's relations with Renault frayed badly last year as their engine proved underpowered compared to champions Mercedes and Ferrari.
Renault now have their own team, after buying Lotus, but are still providing Red Bull with engines that now carry Tag Heuer branding.
The car wheeled out on Wednesday in an old brewery in London's East End replaced Nissan's luxury car brand Infiniti — the former title sponsors who have followed Renault — with Red Bull branding.
Horner said the mood at the Milton Keynes factory was one of determination to get back on top, and felt Renault commitment to buying its own team would also help in terms of engine development.
"I think probably most people have written Red Bull off for this year but we're fighters and focussed on getting ourselves into a competitive position," he said.
"I think it would be foolhardy to write a team off with the calibre of people that Red Bull has in it."
If the car shown off on Wednesday was old, Red Bull's new challenger will make its debut on the track next Monday when the first pre-season test starts at Barcelona's Circuit de Catalunya.
The season starts in Australia on March 20.