President Obama heads to Havana for historic visit
Comments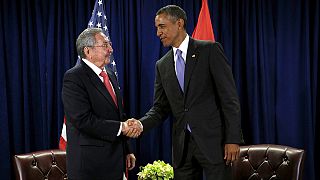 US President Barack Obama has confirmed he's to make a historic visit to Cuba next month.
It'll be the first sitting American presidential trip to the country in nearly 90 years and a significant symbol of a thaw in hostilities between the former Cold War foes.
"Next month, I'll travel to Cuba to advance our progress and efforts that can improve the lives of the Cuban people," Obama posted on Twitter.
The United States has had a trade embargo with Cuba since 1960; the US Congress opposed plans to end embargo but Washington and Havana began normalising relations last year.
Obama said that while the United States still has concerns about human rights in Cuba, it has already made substantial progress in renewing relationships.
Alongside Cuban President Raul Castro, Obama will meet entrepreneurs and what the White House described as "Cubans from different walks of life" during the March 21-22 visit, which is part of a wider trip to Latin America.