FIFA ethics investigator recommends life bans for Bedoya and Jadue
Comments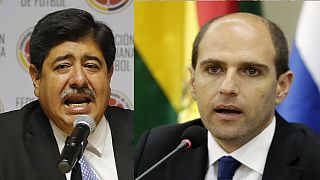 World soccer's chief ethics investigator has recommended life bans for the former presidents of the Colombian and Chilean football federations after finding cases of misconduct under FIFA rules, including on bribery and corruption.
Colombia's Luis Bedoya, a former FIFA executive committee member, and Chile's Sergio Jadue have already pleaded guilty in the United States to racketeering conspiracy and wire fraud conspiracy, according to the U.S. Department of Justice.
They are among more than three dozen officials who have been indicted in the United States in a graft scandal which has plunged soccer's governing body FIFA into the worst crisis in its 111-year history.
FIFA's ethics committee said on Thursday that chief investigator Cornel Borbely's own investigation had uncovered what it deemed to be violations of six articles of its code of ethics, including one on bribery and corruption.
The others included articles on general conduct, loyalty, duty of disclosure, conflicts of interest and general obligation to collaborate.
It was not clear whether either man would appeal, nor was it possible to immediately contact their lawyers.
Bedoya was president of the Colombian federation from 2006 until last year and also sat on the executive committee of South American football's governing body CONMEBOL.
He was a member of the FIFA executive committee from 2014 until last year.
Jadue was president of the Chilean federation from January 2011 until November, when he resigned, and also sat on the CONMEBOL executive committee.