Haiti swears in provisional president
Comments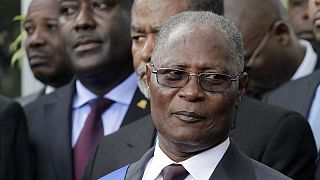 Haiti has sworn in an interim president in a move aimed at filling a power vacuum threatening the stability of the Caribbean nation.
Jocelerme Privert has been selected by lawmakers to organise fresh elections as quickly as possible. He has a deadline of May 14 by when he has pledged to handed over to a newly elected leader.
"We have shown that we can overcome our disagreements, our fights, in favour of the general interests. Many thanks to the politicians responsible, and also to civil society, to the human rights organisations and the international community."
Haiti elects a new president… For 120 days: https://t.co/B5KxhDbZuYpic.twitter.com/0ESNASyn1k

— The Root (@TheRoot) February 15, 2016
Former President Michel Martelly finished his term a week ago with no elected successor.
Haiti cancelled a runoff presidential poll in January amid often violent protests over alleged fraud in the first round and after the opposition candidate boycotted the vote.
The last time there was an interim government in Haiti it took two years to hold elections.