Former Israeli PM Ehud Olmert starts 19-month jail term for corruption
Comments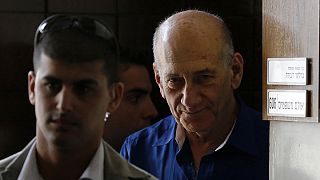 Former Israeli Prime Minister Ehud Olmert began a 19 month jail term for corruption on Monday – making him the country's first ex-head of government to go to prison.
Before setting off for Maasiyahu Prison in central Israel in a motorcade protected by bodyguards assigned to former leaders, the 70-year-old released a video statement protesting his innocence.
"As prime minister I was responsible for the security of the citizens of the state of Israel. At this time, I find it important to say, once again, as I said in court, that I plead not guilty to the bribery charges I was convicted of," he said.
Olmert was assigned to a small wing of the jail, where he will be segregated for security reasons from the general population
A cell with shower, bathroom, closet, table and chairs and a television: Olmert's home for the next 19 months pic.twitter.com/0J7JyFJdko

— Haaretz.com (@haaretzcom) 15 Février 2016
He will wear a prison uniform, have two cellmates and spend his first day in jail busy with assessment sessions with a social worker and a criminologist – to assess, officials say, whether he is suicidal.
Olmert was convicted in 2014 in a case that revolved around a contested property deal during his time as Mayor of Jerusalem before he became Israel's prime minister.
He was sentenced to six years in jail, but the term was cut by the Supreme Court in December to 18 months. A lower court later added a month onto that sentence for obstruction of justice.
During his premiership from 2006 to 2009, Olmert was internationally credited with working toward a peace accord with the Palestinians, until corruption scandals forced him to step down.
A separate eight-month prison term is pending in another case related to cash payments he was alleged to have received from an American businessman.
Olmert is the most prominent of several Israeli politicians to be jailed in recent years. They include former president Moshe Katsav, who was convicted of rape.