Greek farmers camp outside parliament to protest tax reforms
Comments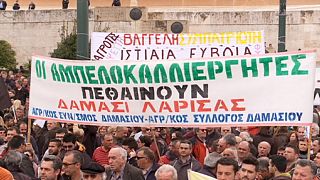 Thousands of Greek farmers protested against controversial pension reform plans on Saturday (February 13).
Many spent Friday night camped out in front of the parliament building in Athens.
Bailout lenders are demanding farmers pay higher social security contributions and more tax.
Farmers claim the reforms would mean paying up to 70 percent tax leaving them with little incentive to work.
"We didn't come here to ask for something or to beg," said a Greek farmer. "We came with dignity, and we suffered a lot on the way here, to say that we want to live with dignity, to keep our children on our land."
"It's a survival struggle, in order for us to retire at 67 and for the children to be able to make a living out of the fields," said another.
"When we're taxed 60 percent of our income, it's impossible for farming to remain viable," said another farmer. "It's impossible to get into our fields with all those measures. So, our fight will go on, otherwise we'll stop producing. There's nothing else to do."
Some farmers had threatened to remain camped out indefinitely, but it now looks like they've decided to leave on Sunday and reassess the situation on Monday.
Our correspondent in Athens, Panos Kitsikopoulos, reported: "Farmers are poised to escalate their protests, if their demands were not met. Although the interior minister says that everything is open to discussion, repeating the government's offer of dialogue, farmers want the pension reform proposals to be scrapped, and for talks start from scratch."