Tilda Swinton's tip for surviving a George Clooney joke
Comments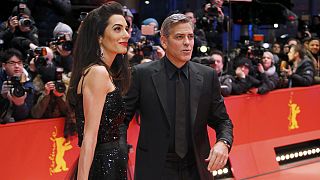 The 66th edition of the Berlin film festival has opened with the Cohen brother's latest opus, "Hail Caesar" getting them rolling in the aisles.
Chairing a prizegiving jury for the first time is triple Oscar-winner Meryl Streep, but she was far from the only star in Berlin along with the Cohen's cast and a bevy of German celebrities.
"Hail Caesar" looks like it is a rollercoaster comedy that packs in the laughs, so is it easy to be funny?
"I think you just need good writing with good directors, don't you? That's usually the best way, then you can survive," said the actor-director.
It seems the main challenge can actually be for the co-stars on the receiving end of the gag Tilda Swinton revealed how she manages to keep a straight face, when Clooney turns on the humour.
"Stand by him for a long long time and the joke wears off," said Swinton after a pause for thought.
Streep is unlikely to be so waspish but her acting chops will ensure her voice will be heard when it is time for the jury members to pick the winners, even if on the opening night the only voices that could be heard were the fans screaming her name.
"In the past the opening movies at the Berlinale were less spectacular. But this time, finally the Festival had a great glamour opening. Certainly the spanking new movie by the Coen brothers with an excellent cast was the right choice. And if you want to have a big media buzz on the red carpet, you just need George Clooney, what else?" says euronews' Wolfgang Spindler in Berlin.