South Africa: Zuma speech disrupted amid home upgrade scandal
Comments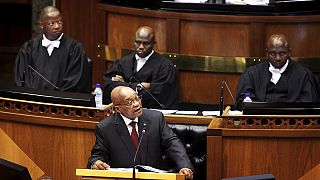 It was always going to be a difficult day for South Africa's President Jacob Zuma.
But protests ahead of his state of the nation speech on Thursday turned into clashes in Cape Town – an unfortunate backdrop to the pomp and circumstance surrounding the annual address.
Police fired stun grenades to disperse crowds outside parliament.
Under fire for spending over 20 million euros of taxpayers' money on upgrading his private home, Zuma is facing calls for his impeachment by opposition leaders who have taken the case to the Constitutional Court.
South African opposition asks court to rule on #Zuma's home upgrade #SouthAfricahttps://t.co/abaqcVQtohpic.twitter.com/2TNFGmbKFt

— Reuters Africa (@ReutersAfrica) 9 Février 2016
At their helm and leading interruptions delaying parliamentary proceedings on Thursday was firebrand Julius Malema, who once led the ruling ANC's Youth League.
Malema's far-left Economic Freedom Fighters (EFF) party, which was obliged to leave the chamber, used similar tactics at last year's big speech.
"Zuma is no longer a president that deserves respect from anyone…he has made this country a joke," Malema said before walking out of parliament with his fellow members, sporting their trademark red overalls and hard hats. They chanted slogans calling for Zuma to resign as they left.
Deputies from the opposition Congress of the People party had left the chamber earlier, demanding that Zuma quit.
Malema's EFF have also taken their frustrations onto the streets of South Africa in rallies calling for Zuma's departure and rejecting his offer to pay back some of the money as too little too late.
The opposition is hoping that public anger over the upgrade and the nation's economic woes will translate into votes in upcoming local elections.