FIFA political disloyalty leads to reprisals - Prince Ali Bin Al Hussein
Comments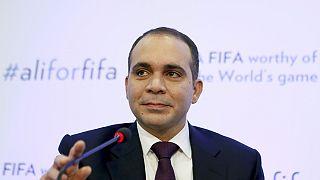 FIFA presidential candidate Prince Ali Bin Al Hussein on Tuesday claimed there is a climate of fear and reprisals within the football's world governing body in a bid to secure block voting.
At a press conference in Geneva Prince Ali said that punishments were dealt out to member associations and even their national teams if political loyalty is not shown.
He said: "Let me tell you what happens when you don't go with the recognized powers in FIFA. Development projects mysteriously stall; tournament hosting bids are suddenly compromised or withdrawn; national teams start to mysteriously face less favorable fixtures and even referees. All of these are effective ways to punish member associations that fail to demonstrate political loyalty."
The former FIFA vice president stopped short of explaining how national teams were given unfavorable fixtures and referees.
The 40-year old Jordanian Royal is one of five men hoping to replace incumbant President Sepp Blatter in the February 26 elections.
Prince Ali is considered an underdog for the upcoming elections with UEFA general secretary Gianni Infantino and Asian confederation chief Sheikh Salman bin Ebrahim al-Khalifa the front-runners.