Dozens dead in Mexico prison violence
Comments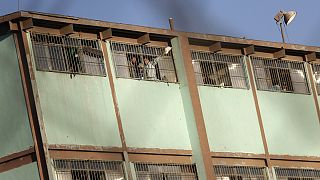 At least fifty two people have died in a riot and fire at a prison in Mexico.
A dispute between rival drug gangs is said to have triggered the tragedy in the northeastern city of Monterrey.
Fighting broke out overnight in two areas of the Topo Chico prison between a faction of the brutal Zetas gang and another group, Nuevo Leon state Governor Jaime Rodriguez said.
He told reporters that prisoners had started several fires during clashes and that all those killed were detainees. Twelve people were injured.
Reports also say that some inmates were angry at authorities re-establishing their control of the jail and that the violence was linked to an escape attempt.
Anxious relatives gathered outside for news of their loved ones after this, the latest in a series of deadly riots in recent years to rock Mexico's overpopulated prisons, which often house inmates in drug cartels.
"I want to know that my daughter is okay. She is in the infirmary. There are children in there," said one woman outside the prison as other relatives shouted and cursed.
It comes just days ahead of a planned visit by Pope Francis to another jail in Mexico's far north.
He is set to begin his first trip to Mexico as pontiff on Friday and next week, he will go to a prison in the border city of Ciudad Juarez, which was once one of the most violent cities in the world.
Pope Francis plans a symbolically freighted trip to Mexico https://t.co/RWQGylqhjCpic.twitter.com/L57R7xQIvR

— Los Angeles Times (@latimes) 7 Février 2016