France: MPs back constitutional changes to strip passports from those convicted of terrorism
Comments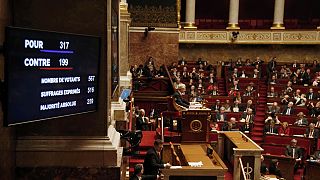 The majority of MPs in France's lower house of parliament, the National Assembly, have approved controversial amendments to the country's constitution in the wake of the terror attacks in Paris.
The proposed package of measures would enshrine emergency powers in the constitution and allow for terror convicts to be stripped of French citizenship.
The reforms, however, still need to be approved by the upper house of parliament, the Senate, and then finally confirmed by both houses – a vote likely to take place in mid-March, requiring a three-fifths majority to pass into law.
The issue has already sparked weeks of debate, since President Francois Hollande began pushing for constitutional reform after the terror attacks in the French capital in November that killed 130 people.
The declaration of a state of emergency gives special powers to security services and police to carry out raids and arrests.
France is in the process of extending the state of emergency declared after the Paris attacks for another three months. It had been due to expire on 26 February.
The proposed amendment to Article 36.1 of the constitution would allow for the government to extend a state of emergency for up to four months. It would also prohibit the dissolution of the lower house, the National Assembly, during the state of emergency.
A second proposed constitutional change has proved much more controversial: a measure that would allow the French authorities to strip people convicted of terrorist offences of French nationality.
This measure was initially aimed at only stripping French nationality from citizens with dual nationality.
But critics have said that any law is likely to stigmatise people of mixed backgrounds, such as those from former French colonies in Africa. Under international law, governments cannot make citizens stateless.
Hollande's Justice Minister Christiane Taubira resigned last month in protest at the proposed measures.
Je quitte le Gouvernement sur un désaccord politique majeur. Je suis fidèle à nous.

— Christiane Taubira (@ChTaubira) January 27, 2016
Faced with some fierce opposition within his Socialist Party over the constitutional changes, the President is widely expected to reshuffle his cabinet over the coming days to shore up support.