Storm Imogen wreaks havoc across Europe
Comments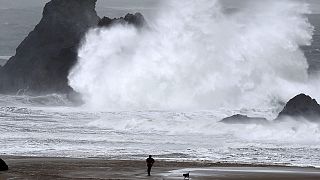 Spain
Rescue workers in Spain are battling against strong winds and crashing waves to recover the body of a 20-month-old baby.
The child was swept away while out with his father and grandfather in the northern Asturias region. They managed to reach safety, but the ferocity of the waves meant they were unable to reenter the water to rescue the baby.
Elsewhere in the country, small tornadoes have wreaked havoc on greenhouses and other buildings.
"Everything began to move. We heard a huge noise and I wondered what on earth it could be," said one woman in Salnés, Pontevedra.
France
France has also been badly hit by strong gusts, with 22 departments on the second-highest Orange alert level until at least 8am on Wednesday.
In Paris, two people were seriously injured when an advertising board tumbled down on them.
The UK
Storm Imogen, as it's being labelled in the UK, has battered much of southern England and Wales.
Winds of a 160 kilometres-per-hour have felled trees, leaving some people trapped inside their homes.
"If I'd have been closer to the window I would've received a much more serious injury I think," one man in Bristol said.
In Cornwall, the A30 dual carriageway was brought briefly to a standstill after the wind overturned a lorry, while in other parts of the county, waves of 19.1 metres were recorded.