Paris 2024 unveil new Eiffel Tower-inspired Olympic bid logo
Comments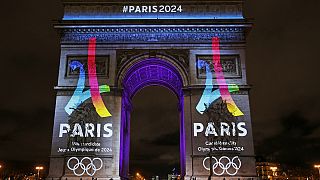 The Paris 2024 Olympic bid committee unveiled on Tuesday their new Eiffel Tower-inspired logo at a ceremony in the French capital.
The design, claimed to be a modern interpretation of the iconic landmark, was projected symbolically at 20:24 CET onto the Arc de Triomphe in front of a crowd of spectators and city officials and simultaneously onto the town hall in Marseille.
"The new visual identity of the Paris 2024 campaign reflects the values and ambitions of our bid," said Paris 2024 co-chairman Bernard Lapasset.
"We believe this logo captures the essence of Paris as a forward-thinking, modern capital city that is also proud to celebrate its rich culture and heritage.
"As we progress in our campaign to host the Games in 2024, it is wonderful to be here in the heart of the city with thousands of Parisians and people from all over to world to see our bid logo displayed on an iconic global landmark."
The logo features the number 24 twisted into the shape of the Eiffel Tower, which is thought to reference the last time Paris hosted the Olympics in 1924, as well as their latest effort to host the Games in 2024.
Paris mayor Anne Hidalgo joined Lapasset and three-time canoe Olympic medallist Tony Estanguet, also the other Olympic bid co-chairman, for the unveiling of the design crafted by the Paris-based Dragon Rouge agency.
It is understood that the promotional campaign will be centred around the new logo adorning the capital, including on the avenue Champs-Elysées, on banners and other street dressings from tomorrow.
Earlier, the Paris 2024 bid team strengthened its bid credentials by securing just under 8 million euros in sponsorship deals from four new corporate partners.
The bid committee confirmed that Caisse des Depots, Elior Group, JCDecaux and RATP will contribute about 2 million euros to the budget, in addition to the French national lottery, which also pledged 2 million euros in support.
The cost of the bid campaign is estimated to be in the region of 60 million euros, with one half of the budget financed privately and the other through state subsidies.
Paris, which has previously hosted two Games, is competing against Budapest, Rome and Los Angeles for the 2024 Olympics.
The International Olympic Committee (IOC) will choose the host city in September 2017.