Turkey: at least 27 migrants drown as boat sinks off coast near Edremit
Comments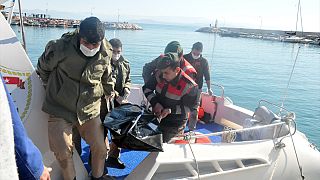 At least 27 migrants and refugees have died off Turkey's Aegean coast trying to reach the Greek island of Lesbos, according to the Turkish coastguard.
Their overloaded boat capsized off the Turkish town of Edremit.
Eleven children were among the dead, according to the Turkish news agency, DHA.
Rescue teams were searching on Monday afternoon for 12 people believed to be missing, DHA also reported.
The International Organization for Migration (IOM) estimates that 68,778 migrants and refugees reached the Greek islands between 1 January and 4 February 2016 – and 374 people died making the journey during that period.
The latest sinking came as Germany Chancellor Angela Merkel was in Ankara to discuss the migrant crisis with the Turkish government.