Merkel and Hollande hold informal talks over key EU issues
Comments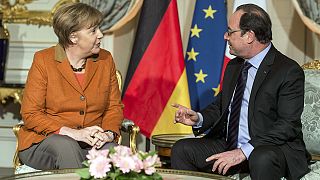 Putting up a united front ahead of this month's EU summit!
French President Francois Hollande and German Chancellor Angela Merkel met for bi-lateral talks on Sunday in Strasbourg to make sure they are in agreement over key issues.
They later met up with European Parliament President Martin Schulz.
The agenda is believed to have been dominated by the refugee crisis. In particular the leaders are said to have backed the EU Commission plan to help Greece control its borders by strengthening the means of registering refugees. Turkey's increasingly crucial role in stemming the tide of migrants into Europe was also thought to have been raised.
One other major issue was the Brexit. Merkel and Hollande are keen to keep Britain within the EU and are thought to have talked about British Prime Minister David Cameron's proposed reforms.