Swiss roll as Janka and Gut grab Super-G wins
Comments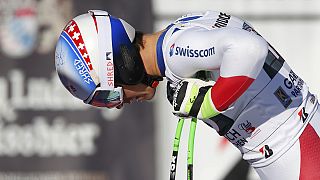 Hello snow lovers let mountain guide Vincent Ménard lead us through the weekend's Alpine events.
''Welcome to Gravity the tenth episode of the ski season. The Swiss are on a roll with Carlo Janka claiming the Super-G in South Korea and Lara Gut in Germany.
Let's head off to Garmisch-Partenkirchen.Where It's not all Vonn at Garmish as Switzerland's Lara Gut skied to her first Super-G victory of the season.
Lara Gut wins Super-G World Cup race, Vonn comes in 3rd https://t.co/RcDilJ6PeWpic.twitter.com/VWYPPWbF3P

— Seattle (@yskSeattle) February 7, 2016
Gut said she risked everything, she just switched off her brain and skied for the line.
#fragdendsv Congrats to Lara Gut! First Place at Super G FIS Ski Worldcup! #kandahar#garmisch#skialpinepic.twitter.com/6JgiyIsZdm

— Johannes Heimann (@JohannesHeimann) February 7, 2016
It was gutsy from Gut on a dark and bumpy piste.
The Swiss is now 87 points behind overall leader Lindsey Vonn.
Germany's Viktoria Rebensburg has been competitive all weekend on the Kandahar slope she finished just behind Gut.
Super-G in Garmisch: Viktoria Rebensburg fährt auf Rang 2.

Lara Gut gewinnt, Lindsey Vonn Dritte. #ssnhdpic.twitter.com/i7PoNHwngV

— Sky Sport News HD (@SkySportNewsHD) February 7, 2016
Lindsey Vonn, who won Saturday's downhill,skied for the percentages having won the previous three Super G's.
Even with a massive recovery, lindseyvonn</a> still snags a podium spot in the Garmisch SG. <a href="https://t.co/WsRw4rSK1B">https://t.co/WsRw4rSK1B</a> <a href="https://t.co/pFo0gEuoPD">pic.twitter.com/pFo0gEuoPD</a></p>&mdash; usskiteam (usskiteam) February 7, 2016
Third place for Vonn who leads the Super-G standings by 99 points.
A Swiss Super-G double as Carlo Janka claimed his first ever Super-G of his career on the soon to be Winter Olympic slope at Jeongseon in South Korea.
4th fisalpine</a> discipline victory added to <a href="https://twitter.com/carlo_janka">carlo_janka's record w/2018PyeongChang</a> test SG: <a href="https://t.co/twsERLxK1M">https://t.co/twsERLxK1M</a> <a href="https://t.co/VxlU5uLK7r">pic.twitter.com/VxlU5uLK7r</a></p>&mdash; SkiRacing.com (SkiRacingCom) February 7, 2016
The piste is being tested ahead of the 2018 winter games.
And Carlo Janka likes it.
Second place went to the Italian Christoph Innerhofer who finshed close to a second behind Janka.
Third spot went to the Austrian Vincent Kriechmayr.
Super-G podium of Jeongseon! carlo_janka</a> claims the win ahead of <a href="https://twitter.com/InnerhoferChris">InnerhoferChris (+0.82) and Kriechmayr (+1.06) pic.twitter.com/JfVefulzvL

—

FIS

Alpine (@fisalpine) February 7, 2016
The piste got the thumbs up and the snow is good to go.
The world's best skiers will be back in South Korea in two years for the Olympic Games.
It was a good opportunity for the racers to test the piste as they attempt to emulate Franck Piccard who won in Calgary in 1988. Take it away Franck.
Franck Piccard wird 50! Joyeux anniversaire! http://t.co/PgLDeu6i5w#skiweltcup#skiwm2015#skiworldcuppic.twitter.com/fQvdHKxJNf

— Skiweltcup.TV (@skiweltcup_tv) September 17, 2014
''A pre-Olympic test in space and time. We skiers tell ourselves we will be back in a year or two years for the Olympics. So we mark the piste and a pre-Olympic run helps us to memorise the slope and prepare mentally. It is necessary to visualise the hill to prepare for the games. So test events give us a taste of the enviroment all this helps us to relax so we can perform on D-day!'' ''Thanks Franck.''
''After South Korea the circus heads for Japan. The place where Frenchman Jean-Luc Crétier pulled off one of the great surprises in Alpine skiing by claiming Olympic gold in the downhill 18 years ago.
Souvenir : il y a 16 ans, Jean-Luc Crétier devenait champion olympique de descente aux JO de Nagano… #espritbleupic.twitter.com/co5dpBrSei

— France Olympique (@FranceOlympique) February 13, 2014
Jean-Luc Crétier born in Albertville in 1966 is a skier with a distinctive career record.
The Frenchman delivered an amazing performance, with a little help from hot favourite Herman Maier, to win Olympic gold in the downhill in Nagano in 1998. It was the only victory of his international career, he failed to win a single World Cup or World Championship race.
He was well placed in a number of big races, but no cigar as the saying goes.
Who needs a cigar when you have Olympic gold.
Check out the delicious pictures from the second stage of the Freeride World Tour from Chamonix.
The plaudits went to France's Loic Colomb-Patton for the third year in a row and Austria's Eva Walkner.
Start der Swatch Freeride World Tour in #Chamonix
Live on https://t.co/IjflzxsUCw
##FWT#Ski#Snowboard#Webcastpic.twitter.com/A04qNr53T9

—

FUNSPORT

.de (@FUNSPORTde) February 5, 2016
Its snowtime.''
La face du Freeride World Tour 2016 à Chamonix est dévoilée https://t.co/Zg0Ial9rBfpic.twitter.com/WxVVFJVgXZ

— Adrénaline (@eadrenaline) February 4, 2016