Haiti leaders clinch last-minute deal to form interim government
Comments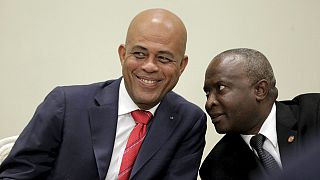 Politicians in Haiti have signed a last-minute agreement to install a caretaker government to avoid a power vacuum.
The deal was inked on Saturday, less than 24 hours before President Michel Martelly was due to step down with no elected successor in place.
Martelly had thrown his weight behind presidential candidate Jovenel Moise, who won the first round of the election in November.
But a run off vote due to be held last month was called off after opposition candidate Jude Celestin threatened a boycott over allegations of fraud in the first round, and protesters took to the streets in force.
The interim president's primary job will be to quickly hold a presidential election that, under the terms of the deal, should be held on 24 April.
Since January, there have been almost daily protests by both opposition and government supporters on the streets of the capital, Port-au-Prince. On Friday, an ex-soldier was beaten to death by a group of demonstrators.
Martelly said of the last-minute deal, "We had to make sacrifices to get this country out of this situation."
During the signing ceremony, small groups of anti-government protesters clashed with riot police outside the presidential palace.