Brazil carnival opens, amid growing Zika fears
Comments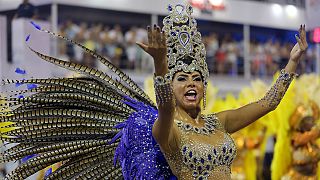 The world's biggest Carnival burst into life on Friday night in Rio de Janeiro, Brazil.
Samba groups kicked off proceedings at the Sambadrome for the first event. Second-tier dance troupes, competing to win a place in the main parade at next year's Carnival.
"It is a big responsibility, a big responsibility (to be the opening group of the Carnival). But it's so great to be opening Carnival on the right foot. This Carnival will be wonderful," said one dancer.
PHOTO: Carnival in South America has begun! MCampodo</a> took this photo in Uruguay: <a href="https://t.co/ExVXZV23ro">https://t.co/ExVXZV23ro</a> <a href="https://t.co/1kJrXW9bcJ">pic.twitter.com/1kJrXW9bcJ</a></p>&mdash; The Associated Press (AP) February 6, 2016
This year's carnival bursts into life at a time when Brazil is gripped by concern by the Zika virus.
In the the northern city of Olinda, the mosquito-borne virus has become the theme of one of the opening events.
Children paraded through the town – which is located near the city of Recife, which has been called of the 'ground zero' of Zika infections in Brazil – carrying a mosquito doll inside a cardboard coffin.
"We related it to music and culture as a way of calling attention to the need for people to keep their houses clean and prevent dengue, as well as all the other diseases like Chikungunya and Zika," said one of the local residents of the parade.
Brazil's health ministry has linked Zika to the birth defect microcephaly, reporting more than 400 cases since October and more than 3,600 suspected cases.
PHOTOS: Living with microcephaly. https://t.co/gWdBkU585npic.twitter.com/w7tCLywVdf

— Reuters Top News (@Reuters) February 5, 2016