Civilians flee Aleppo as Syrian army and Russian air power lay siege
Comments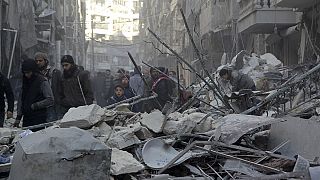 Ancient armies fought here, but now modern weapons are beginning to encircle Aleppo, and the city is being hit remorselessly from the air by the Russians, supporting the government's ground offensive.
Syria's largest city has been mostly rebel-held since 2012, but the last 24 hours have seen a blitz like no other, and the loss of more outlying villages. Tens of thousands of civilians, fearing the worst, are fleeing towards Turkey.
On Wednesday the rebel's supply road into Turkey was cut, a major blow. The loss of Aleppo might signal the beginning of the end for the rebellion against Assad.
US pressure on arms suppliers including Turkey and Saudi Arabia to get this week's stalled peace talks set up have also weakened the rebel forces.
But the suddeness and ferocity of the government attacks, which on the ground are reportedly spearheaded by Iraqi and Afghan shi'ite militias recruited by Iran, lead many rebel leaders to believe there was no intention of striking an accord.
Some areas have been freed from ISIL control, but it is mostly Assad's other opponents feeling the heat.
"I was imprisoned for 20 days for one cigarette, [by ISIL]," said a local villager. "20 days just for one cigarette."
On Wednesday there were 200 airstrikes alone, with the same intensity the following day, the worst in the near five-year war.
There are reportedly some 300,000 civilians ready to move north into Turkey if the government forces get too near.