FIFA presidential candidate Infantino gets Russia backing
Comments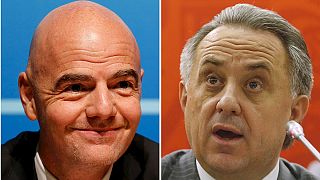 Gianni Infantino continues to gather momentum in his attempt to replace incumbant Sepp Blatter as president of football's scandal-hit world governing body FIFA.
A week after the South American confederation Conmebol gave the 45-year-old Swiss its full backing, Russian Sports Minister Vitaly Mutko announced on Wednesday the Russian Football Union would also support Infantino at the elections.
Mutko said "For now our position is clear, today – just as it is for all European National Federations, European National Associations and they are 54 (NOCs) – we got together and discussed the notion of holding the election and we have a candidate from Europe, Gianni Infantino. And we continue to support him and believe this is a worthy candidate and we back his candidacy."
Mutko made the comment at a ceremony in Moscow marking the '500-Day Countdown' to the 2017 FIFA Confederations Cup to be held across Russia.
The FIFA elections will take place in Zurich on February 26.