Jailed for joining ISIL - British woman gets six years after returning from Syria
Comments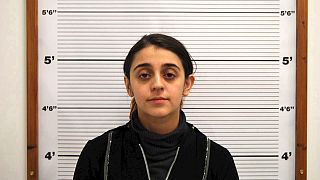 A twenty-six year-old British mother who took her toddler son to Syria has been jailed for six years for belonging to the jihadist group ISIL.
Tareena Shakil who is a former health worker from Birmingham in central England, is the first woman from the UK to return from the self-declared caliphate, to be convicted of the offence.
Shakil has denied joining ISIL saying she only wanted to live under Sharia law, but the court was shown photos of her posing in Syria under an ISIL flag. She's also been convicted of encouraging acts of terrorism via social media.
"Tareena Shakil had self-radicalised by viewing extremist material on the internet, before leaving the UK," said Assistant Chief Constable Marcus Beale.
"Our assessment is that she was not naïve. She had absolutely clear intentions when she left the UK, sending tweets encouraging the public to commit acts of terrorism here and then taking her young child to join Daesh (ISIL) in Syria."
Photographs seized from her phone showed Shakil posing with a firearm and wearing an ISIL balaclava. Another showed a rucksack with the ISIL logo and a person holding a handgun. It's thought the photos were taken while she was in Syria.
After changing her mind, Shakil who had spent three months in Syria, was arrested last year by counter-terrorism officers when she returned to Britain.
Security services estimate some 600 Britons have joined the ranks of ISIL and other militant groups in Syria and Iraq, many of them crossing via Turkey. About half are believed to have returned to Britain.
Tareena Shakil jailed for six years for joining IS. Is she a vulnerable woman or a terrorist? #ShelaghOnLBCpic.twitter.com/10ZpgKheGZ

—

LBC

(@LBC) February 1, 2016