Europol sounds alarm over 10,000 missing migrant children
Comments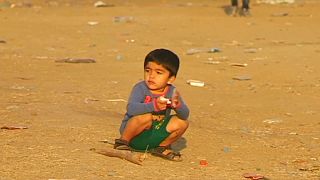 Europol has alerted the authorities to an aspect of the migrant crisis ignored until now; the fact that 10,000 children have gone missing, and will be easy targets for human traffickers.
The figures suggest the children have vanished over the last two years, and that they are "lost in the system". Some say the figure could be much higher.
"What we are saying is that's the number of unaccompanied minors that we don't know where they are. We don't know — they are lost in the system is the phrase I heard used today, I think that's a good way of putting it. I mean I think our concern is that we know that there are people out there who will exploit minors. We know there are people who will take them and use them for their own purposes. We are just trying to raise awareness that this is something everybody should be aware of," said Europol's Chief of Staff Brian Donald.
Europol warns criminal gangs have wasted no time in exploiting the new source of cheap labour, and are adapting to the situation. A parallel report alleges clothes are being made by child refugees for H&M and Next in Syria.
NGOBusiness and Human Rights Resource Centre asked 24 chain retailers details of their employment policies, but only 10 replied. H&M and Next were among the only companies to act once it was discovered children had been making their clothes, the NGO added.
European leaders hold a special migrants summit in the third week of February as the crisis continues to put strains on the EU.