Dakar Rally runner-up Al-Attiyah swaps car for gun in a bid to make Rio Olympics
Comments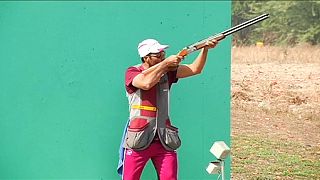 For the motorheads Nasser Al-Attiyah is better known for his two Dakar Rally victories, but for those who are keen on shooting the Qatari is the 2012 Olympic skeet bronze medallist.
The 45 year old sportsman who finished second in last month's Dakar has swapped four wheels for the gun as he looks to make a sixth Olympic games at Rio this summer.
He said: "It has been my dream for a long time, to be a champion in rally and champion in shooting and this was really a good thing what I make for myself."
Al-Attiyah was competing at the Asian shooting Championship in New Delhi, hoping to maintain his record of competing at each Games since 1996.
But he failed to make it out of qualifying so will now have to hope for a wild card to make the team heading to the first Olympics in South America this summer.