American duo Cartica and Pizzi win 2016 World Marathon Challenge
Comments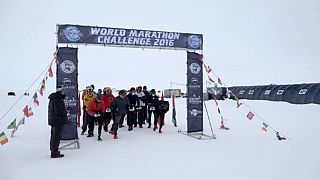 What does a US Marine Corps Captain and a day care centre operator have in common? As of this weekend, the 2016 World Marathon Challenge title.
Daniel Cartica and fellow American Becca Pizzi won the men's and women's crown respectively having completed seven marathons on seven continents in seven days the fastest in their groups.
Competitors started the challenge in Antarctica on the 23rd January and then ran the standard 42.2 km marathon distance again in South America, North America, Europe, Africa, Asia and Australia.
The marathons took place at Union Glacier (Antarctica), Punta Arenas (Chile), Miami (USA), Madrid (Spain), Marrakech (Morocco), Dubai (United Arab Emirates) and Sydney (Australia).
Cartica completed the seven tests with a winning average of 3 hours and 32 minutes and 25 seconds while Pizzi won all seven races in the women's category and averaged at 3:55:11.