Syria peace talks: UN mediator 'optimistic and determined'
Comments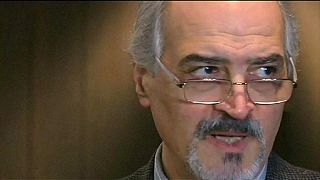 Syria's main opposition group met with the UN's mediator in Geneva for the first time on Sunday but attempts to get talks started to find a solution to the Syrian conflict got off to a shaky start.
The Syrian government's chief delegate, Bashar al-Jaafari claimed the Damascus blasts confirmed the link between the opposition and terrorism.
"There is a link between terrorism and those who sponsor terrorism from one side and some political groups that pretend to be against terrorism."
However UN mediator Staffan de Mistura took a positive stance as he emerged from talks with the opposition's High Negotiation Committee (HNC):
"It was useful, it is up to the HNC to tell you what is their plan but it was a useful meeting." De Mistura went to to say he was optimistic as it is his profession to be so … "and determined".
De Mistura is meeting with both sides in separate hotels in so-called ""proximity talks"":http://www.rte.ie/news/2016/0131/764217-syria-peace-talks/. Face to face negotiations are a long way off. But despite the mutual hostility the opposition says it will keeping talking.
Opposition bloc spokesperson Salem al-Mislet, spokesperson said: "We had a really good meeting with Mr. de Mistura. Things are positive. We have received very positive messages."
The opposition had been insisting on an end to air-strikes and sieges of Syrian towns before engaging in the talks. So far the Syrian government has been quoted as saying it is considering what is called "humanitarian moves".
The Syrian government's delegation head, Bashar al-Jaafari, said Damascus was considering options such as ceasefires, humanitarian corridors and prisoner releases, but suggested they might come about as a result of the talks, not before them.
U.N. Secretary-General Ban Ki-moon described the talks – the first in two years – as long overdue. "I urge all parties to put the people of Syria at the heart of their discussions, and above partisan interests," he said.
The talks are expected to last six months.