Iowa Caucus fires starting gun for race to the White House
Comments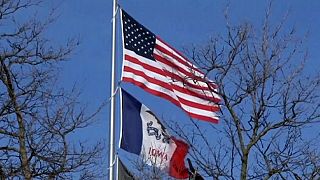 Iowa is a rural state, tucked away in the mid west of the US with around just three million people. Now its time has come again as it does every year there is a presidential election.
For it is here the starting gun is fired in the race for the White House and the media lights sharpen their focus.
The Iowa Caucus is not exactly a vote – slightly more complicated where the residents take centre stage.
"We're not actually voting like you think on elections. We're actually electing delegates to take our message from Iowa for the presidential candidate. It truly is an organizational meeting of our neighbours," explained Polk County Auditor Jamie Fitzgerald.
Thousands will gather in libraries, school halls and fire stations where locals will call for support for certain candidates in the race for the White House. The methods of assessing that support within the two parties during the caucus are different.
"You will vote secret at the Republican caucus but it will be tallied right there in front of you and reported. Whereas, the Democratic, there really is no secret, secrecy to this. You stand up for which candidate you believe in and, if they are vital, if they meet viability, you can stay with them. If they don't, you'll have a chance to move to a different candidate. So, a lot of times in Iowa, you'll hear, 'well, if I can't be your first choice, can I be your second choice?'," said Jamie Fitzgerald.
Some aspects of elections though are universal and for weeks volunteers have been knocking on doors and handing out leaflets to garner support.
Historically, only those candidates who finish in the top third place in Iowa get enough momentum to continue in the national race.
It is a time consuming process and so it is usually only the more activist wings of the parties which get involved.
This year may prove to be different as there is a growing disillusionment with government. So for many this caucus could be the first in which they have taken part.
"So I don't know. I have never really been ready to get the Democrats out of there like I am now. Ready for some change, that is for sure," said Nicole Hutton.
Another resident Gary Garrison agreed: "I think you've got a lot of people who are just really upset with the way government has gone. They say one thing, they do another."
It is time too for some humour with the traditional staging of "Caucus! The Musical in Des Moines which first started in 2014.
Any likeness to some of the real candidates is all but accidental.