Handball: Germany return home to hero's welcome
Comments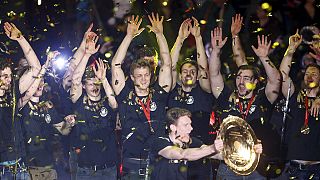 Germany's victorious men's handball team returned home to a hero's welcome and a massive party with thousands of fans to help celebrate their European title.
Germany ended their 12-year major title drought by beating Spain 24-17 in the final in Krakow.
Germany's second European crown also qualifies the team directly for the 2016 Summer Olympics in Rio de Janeiro.
Goalkeeper Andreas Wolff said: "I feel super cool. Because I have won the most important title in the world with my very cool team. Because it is the most important and difficult tournament in the world and we have boosted the profile of handball for the fans. And I hope with this victory that we have brought handball back to life from its rather critical existence."
The Germans can now dance their way to this year's Olympics where they join fellow qualified Brazil, world champions France, Argentina, Qatar and Egypt.
Runners up Spain will now enter one of three additional qualifying tournaments in April, hoping to bag one of the remaining six Olympic berths.