Cuba and France sign deals and promise to deepen friendly ties
Comments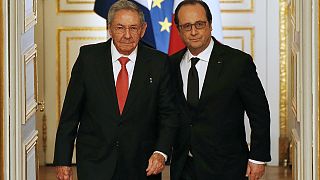 Cuban leader Raul Castro and France's President Hollande have celebrated a successful start to the veteran Communist's tour of France. He is the first Cuban head of state to get a state visit, and it is business-focused.
The two men looked on as their ministers signed a dozen or so deals on economic, political and cultural co-operation. France is already a big player in Cuba, its main trading partner and diplomatic one, too, as Paris played a key role in a debt forgiveness deal that sees the Cubans let off the hook for over 9.2 billion euros.
France is also fostering Cuba's efforts to win EU recognition and Francois Hollande added his voice to Cuban calls for a swift end to the trade embargo.