Golf: Close finish for Singapore Open on the cards as rain stops play on Sunday
Comments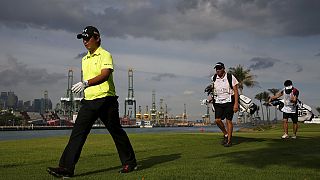 The young KoreanSong Young-han was about to putt on the 16th when the siren sounded, ending play due to rain at the Singapore Open on Sunday.
But he retains his two point lead over American Jordan Spieth, finishing the day on 12-under, two points clear of the world number one.
Spieth had been ratcheting up the pressure on the South Korean, but looked like he was in trouble on the fifteeth when he strayed in to the trees, but recovered with a masterful shot with an eight iron that took him straight to the green.
He capitalised on that shot with a birdie putt and finished play on 10-under, snapping at the heels of Song.
Also on 10-under is Thailand's Chapchai Nirat. He had the highlight putt of the day, finishing with a long eagle on the 18th for a 67.
China's Liang Wen-chong made a final round push for the top, seeing his birdie putt to fall in on the 15th to move to within two shots of Song Young-han, also at ten-under.
The final round is scheduled to be played on Monday.
Here's why we are headed for a Monday finish SingOpenGolf</a> Will there be more drama ahead? <a href="https://t.co/BHcwWUDB6P">pic.twitter.com/BHcwWUDB6P</a></p>&mdash; Asian Tour (asiantourgolf) January 31, 2016