Thousands protest in Vienna against annual right-wing ball
Comments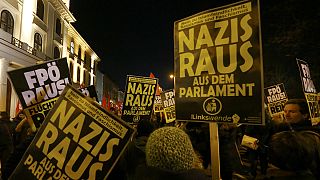 Thousands of protesters have marched through Vienna, to demonstrate against an annual ball, which usually attracts far-right and right-wing figures from all over Europe.
Fearing clashes, police closed off most streets in the city centre.
Those marching chanted slogans and carried flags from left-wing and anti-fascist groups.
The formal Academics' Ball is organised by the Austrian far-right Freedom Party and is part of the annual Viennese ball season.
The event is held at the imperial Hofburg palace, part of which houses the office of Austria's President Heinz Fischer.
In 2014, dozens were detained and a police officer was injured when the demonstration turned violent.