Sweden: masked men threaten to attack migrant children
Comments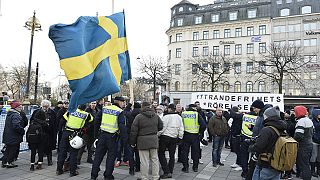 Amid growing tensions over immigration in Sweden, pro and anti demonstrators have taken to the streets of Stockholm.
The country of 10 million received 163,000 asylum seekers last year, as the migrant crisis gripped Europe.
Saturday's demonstrations – which faced off in the same area of the city – came just days after a 22-year-old worker was stabbed to death in an asylum centre in southwestern Sweden.
Police say three arrests were made on Saturday for assault, but refused to confirm media reports that they were all Polish citizens.
On Friday night, a gang of masked men rampaged through the streets of Stockholm after handing out leaflets, threatening to attack migrant street youths.
Police said in a statement that one man had been arrested for punching a plain clothes police officer in the face and another for carrying a brass knuckleduster, but the extent of any assaults against immigrants was not clear.
Swedish dailies said that, according to witnesses, a number of people had been attacked by the men who were thought to belong to "firms" of hooligans associated with local soccer teams.
A recent poll showed support for Sweden's ruling centre-left Social Democrats hit its lowest level in nearly 50 years, mainly because of a sense the government has been overwhelmed by the influx of asylum seekers.
To try and boost confidence, the Swedish government says it is likely to deport up to 80-thousand of last year's asylum seekers.