Dozens dead, scores rescued - migrant boat sinks off Turkey coast
Comments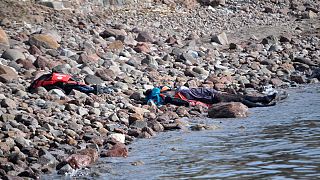 More than 35 people, including several children, have drowned and 75 have been rescued after a boat carrying migrants and refugees to Greece sank of the coast of Ayvacik, Turkey on Saturday.
Rescue efforts were continuing in the afternoon.
One man was detained by police on suspicion of human trafficking and organising the voyage.
"I swear I didn't do it. I had six relatives on that boat. I don't even know whether they are dead or alive. I was also on that boat," he told media at the scene.
Nearby, further rescues were carried out by the Italian Coast Guard on Friday night. Coast guard cutters picked up 31 people drifting on rafts near Kos, and 15 people stranded on a rock near Samos.
55,528 migrants and refugees have arrived by sea in Europe so far in 2016, according to the latest figures (published 29 January) from the International Organization for Migration (IOM).
The IOM also reports 244 people dead or missing in 2016, as of 29 January.