Myanmar's Suu Kyi readies for power as her party comes to parliament
Comments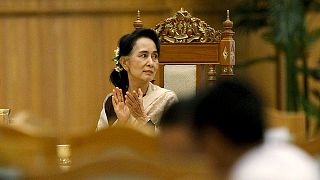 They are doctors, poets, teachers, farmers, fishermen. Many are new to politics, and had to receive intensive instruction in law and constitutional matters at the request of democracy champion and Nobel Peace Prize laureate Aung San Suu Kyi. This has been a historic day for the new Burmese MPs – a day the National League for Democracy has been waiting 25 years for.
On Thursday, President Thein Sein, elected five years ago in an contest branded a "farce" by the opposition and the West, said goodbye to the deputies but he'll remain in office until March.
Although he was appointed by the now dissolved military junta, President Thein Sein, semi-civilian government was the opening of the country. A change that allowed the holding of the historic elections in November last year, the first free elections in the country after half a century of dictatorship.
The contest was marked by the overwhelming victory of Aung San Suu Kyi's party which won an absolute majority in parliament. That day, the Burmese celebrated in style the triumph of the Lady of Rangoon. After 20 years of house arrest, the victory was a radical change in the life of the Burmese leader, who in 1989 rejected freedom in exchange for exile.
During her detention, she maintained a constant if strained contact with General Than Shwe, head of the military junta since 1992. Under his regime everything was prohibited, from opposition parties to the press. The persecution of ethnic minorities also extended the country's isolation from the international community.
In November 13, 2010, police removed at last the barriers of Aung San Suu Kyi's house. A few days earlier, the regime had organized and orchestrated the country's first elections in 22 years, boycotted by Suu Kyi's party.
The culmination of their struggle came much later, although a fight is still looming over the presidency. The powerful and influential army still needs convincing that the constitution must change. It prohibits access to the presidency for people with children born abroad. If its modified and she becomes head of state, Aung San Suu Kyi faces another monumental task. Myanmar is one of the poorest nations in the region and has significant needs in key sectors such as education and health.