European Handball Championships: Germany to face Spain in final
Comments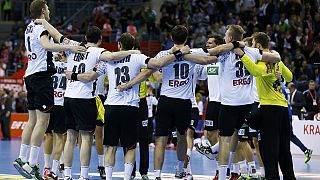 Kai Hafner scored six seconds from the end of extra time to put Germany through to the final of the European Handball Championships at the expense of Norway.
It was a thrilling encounter at the Tauron Arena in the Polish city of Krakow.
Both sides came out blazing but Norway were the first to suffer a succession of two-minute suspensions that took the wind out of their sails somewhat.
Germany took advantage to open up a 9-5 lead but Norway, who were competing in their first European Championship semi final dug in deep to reduce the gap to a one point difference at half-time.
There was hardly a goal between the teams for most of the second half of the game.
Norway were leading 27-26 with seconds remaining and were heading for their first continental final but the Germans levelled courtesy of Rune Dahmke which sent the game into extra-time.
The two teams were tied at 33 all inside the last minute but Germany had one final chance to score and Hafner provided the moment of magic Germany needed to advance to their second final and first since winning the title in 2004.
In Sunday's final at the same arena, Germany will face Spain who beat Croatia 33-29 in the other semi-final.