Europe rolls out the red carpet for Iran's Rouhani
Comments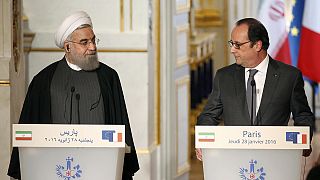 In this week's Perspectives we look at reports on the first visit to Europe by Iran's President Hassan Rouhani after the lifting of international sanctions against his country. Major trade deals were signed with Paris and Rome, but Rouhani was also met with protests from human rights activists as Portugal's RTP reports.
In Italy, Rouhani's visit was partially overshadowed by the row over the covering up of some famous nude statues in the Musei Capitolini. The government has ordered an investigation to find out who was responsible for what seemed to be an act of self-inflicted censorship as Switzerland's RSI investigated.
And Italy's Rai Tre said that during a private meeting at the Vatican, Pope Francis called upon Tehran to play a key role in stopping the spread of terrorism and weapons trafficking. A message Rouhani seemed willing to take into consideration, as Iran tries to improve its global image.
Finally, tourism is among the sectors of the Iranian economy that will most likely hugely benefit from the new era of relations with Europe. A trend is already underway, as several European tourists are expressing interest in visiting the once-pariah state as France 3 reports.