Syria peace talks loom, but who will attend?
Comments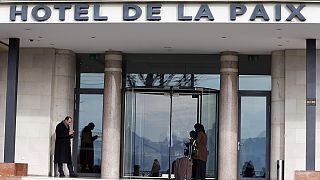 With round three of the Geneva talks on peace in Syria looming, the list of attendees appears far from set in stone.
The Syrian government has agreed to participate in Friday's discussions. However, United Nations envoy Staffan de Mistura is waiting on confirmation from Syria's two main opposition groups.
The Syrian Democratic Council
The Syrian Democratic Council (SDC) is an organisation grouping together secular, democratic and non-Islamist opposition in Syria.
Members of the SDC have begun to arrive in Switzerland, but they say they won't participate in the peace talks unless their allies in the Syrian Kurdish PYD party are invited.
The PYD has been excluded at the request of Turkey, which views the PYD as a terrorist group.
French Foreign Minister Laurent Fabius said of the situation:
"The PYD group was causing the most problems, and Mr de Mistura told me he had not sent them an invitation letter."
The PYD's representative in France, Khaled Eissa, predicted the talks would fail without participation from the Kurds.
"You can't neglect a force that controls an area three times the size of Lebanon," he said, adding: "We will not respect any decision taken without our participation."
Russia's Deputy Foreign Minister, Gennady Gatilov, has since said the group could join talks at a later date.
The High Negotiations Committee
The Saudi-backed High Negotiations Committee (HNC) — the second main Syrian opposition group — comprises armed and political opponents of Syrian President Bashar al-Assad.
It says it will only attend the talks if the UN lifts sieges on blockaded districts and enforces a halt on attacks on civilian areas.
These featured among other demands relating to steps laid out by the UN Security Council in a resolution passed in December.
Fabius said of the HNC:
"If I understand their position, they say yes to negotiations." However, he added that they wanted clarification from the UN first.
Members of the HNC are in discussions in Riyadh, awaiting a response from the UN. They say they are not against Kurdish participation in the peace talks.
"We have seen no results on the ground"
Squabbles aside, Syrians at the Zataari refugee camp in Jordan say they expect the talks to have little effect on their country's five-year civil war.
Abu Bilal was pessimistic about the delegates' chances of success.
"I don't expect [these talks] to be different from the previous ones. As long as there are no terms to remove the [President Bashar al-Assad's] regime completely, the situation in Syria will not be resolved," he said.
"The regime is a failure, it forced us to come here and leave our homes. All they did was imprison, murder and kill. Until this moment, Russian planes are targeting civilians, not a single nation in the world stands with the Syrian people."
Abu Yaser has been in the camp since the onset of the civil war.
"We've been here for five years," he added.
"During this time, the first and second Geneva conferences took place, and now the third one, and we have seen no results on the ground, no ceasefires. And children and the elderly are still the victims of barrel bombs. No one is able to do anything, not even a ceasefire, nothing happened."