Red wristband plan for migrants dropped in UK
Comments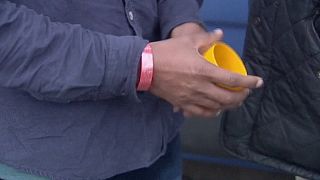 Red wristbands for food plan scrapped
Critics said it was dehumanising
Red doors plan in Middlesborough dropped
A company in South Wales in the UK plans to stop asking asylum seekers to wear a red wristband as a condition for getting food.
Wristbands and red doors for refugees: history is not repeating itself, but it is rhyming | Giles Fraser https://t.co/aPcf5WNQJf

— The Guardian (@guardian) January 25, 2016
The coloured bands were given to people staying at Lynx House in Cardiff.
They are entitled to three meals a day.
Jo Stevens: Wristbands increase the 'problems and barriers' that asylum seekers face https://t.co/azRZz2kkGypic.twitter.com/c3DGTxzzx0

—

ITV

News Wales (@ITVWales) January 25, 2016
Labour MP for Cardiff Central Jo Stevens says the system was dehumanising and made people targets for abuse.
"We are talking about asylum seekers who are fleeing persecution and war in their home countries."
"They don't want to be visible, that is the whole point. They're trying to blend in to the community and there are plenty of other methods of having people show identification in order to gain access to Lynx House and in order to get their three meals a day, which is all they get."
Middlesbrough
Home Office launches review after 'red doors for asylum seekers' report: https://t.co/PpdsiqoYNgpic.twitter.com/Iv3cgqV7uu

— PoliticsHome (@politicshome) January 20, 2016
The news comes days after asylum seekers in the northern town of Middlesborough said they were being singled out by having their doors painted red.
"We are seeing a pattern. I am very concerned. The Home Office is contracting out to private companies management of various functions.
"We had the incidents in Middlesbrough last week where properties housing asylum seekers had had their doors painted a certain colour and people were suffering abuse."
What are asylum seekers entitled to in the UK?
People wishing to seek asylum in the UK benefit from a clearly-defined set of rights