Egypt: Eight to face trial over botched repair of King Tut's beard
Comments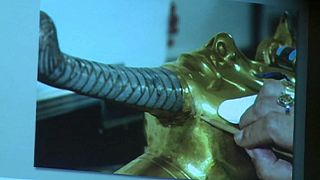 Eight Egyptians are facing legal action for gross negligence after a botched repair job of the mask of King Tutankhamun.
The beard on the more than 3,300 year old mask was crudely glued back on after accidentally becoming detached in 2014.
The tomb of King Tut, an Egyptian pharaoh of the 18th dynasty, was discovered in 1922, sparking worldwide interest in excavation of ancient Egypt.
The mask, displayed at Cairo's Egyptian Museum, is a major tourist attraction.
"The accused violated the scientific and professional rules in dealing with the relic although they presumably know its value and importance goes beyond the local borders," said the prosecutor's statement, adding too much glue had been used in the botched attempt, leaving a visible crust.
"Ignoring all scientific methods of restoration, the suspects tried to conceal their crime by using sharp metal tools to remove parts of the glue that became visible, thus damaging the 3,300-year-old piece without a moment of conscience."
The mask was put back on display late last year after it was professionally reattached and the damage from the botched attempt removed.