Nationwide curfew imposed in Tunisia
Comments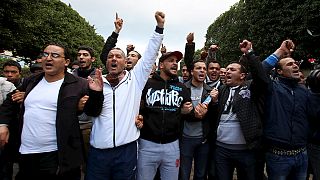 Nationwide curfew announced
Four days of unemployment protests
At least one killed, dozens injured
The news
A nationwide curfew has been declared in Tunisia.
We are not asking for much, we are fighting for our young people
#UPDATE Tunisia announces nationwide curfew after protests https://t.co/Klpd20xCUQpic.twitter.com/s9puWkcvXp

—

AFP

news agency (@AFP) January 22, 2016
It follows four days of protests and rioting over jobs and economic conditions.
The country's Interior Ministry said in a statement that, due to the risk to public and private property, it was imposing a curfew from 8pm to 5 am with immediate effect.
#Tunisia imposes #curfew at night as unrest grows over youth unemployment: https://t.co/mMaWsfB8Obpic.twitter.com/KzmTLo6BnH

— Amnesty UK (@AmnestyUK) January 22, 2016
On a visit to Paris, Prime Minister Habib Essid said the situation was under control.
"It is an economic problem, it is about unemployment. We have a set of policies to try and solve this issue, it is one of the government's main challenges.
"We do not have a magic wand. We cannot solve the problem of unemployment in one go."
French President Francois Hollande confirmed that France would provide one billion euros over five years to help Tunisia transition to democracy.
The context
The protests started on Tuesday in the central town of Kasserine.
A young man reportedly killed himself after being turned down for a job in the public sector.
Demonstrators have stormed local government buildings and clashed with riot police.
A man was reportedly taken to hospital on Friday morning after trying to set fire to himself.
LATEST — Tunisia declares nationwide nighttime curfew following violent protests
https://t.co/MVfbwoBokapic.twitter.com/1zk08UeOUJ

—

DAILY

SABAH

(@DailySabah) January 22, 2016
One police officer has been killed and dozens of people have been injured.
The protests have since spread to other areas of the country.
Meet the new Tunisia, same as the old Tunisia. https://t.co/t5KuUxFFPOpic.twitter.com/nVANIfM48Q

— Foreign Policy (@ForeignPolicy) January 22, 2016
The unrest is the worst since an uprising five years ago that toppled leader Zine El Abidine Ben Ali.
What they are saying
"We are Tunisians as well," a female protester in Kasserine told Euronews. "I have been struggling for four years. We are not asking for much, but we are fighting for our youth. We struggled so much for them."
"The youth have had enough and are in a state of agitation and upheaval" #Tunisiahttps://t.co/BFutqN03z4pic.twitter.com/hvA4kXjltb

— Middle East Eye (@MiddleEastEye) January 21, 2016
Tunisia is erupting in protest, and some see an echo of what sparked the Arab spring in 2011 https://t.co/jBgDcLBuOppic.twitter.com/wZ9×885bBn

— Financial Times (@FT) January 20, 2016
"government offered us nothing but delays..&telling us to shut-up&do nothing" #tunisia#tunis protestor earlier 2day pic.twitter.com/A7lXpfD5C3

— Rana Jawad (@Rana_J01) January 20, 2016