'Frank Underwood' gives his take on US presidential race
Comments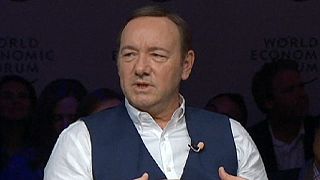 Amid the ranks of world leaders and business giants at Davos, the World Economic Forum also attracts celebrities.
For actor Kevin Spacey – scheming Frank Underwood in 'House of Cards' – a question about the race for the White House was inevitable.
"What would Frank Underwood's advice be to the Republican and Democratic candidates for the presidency?" he was asked in a Question and Answer session on Friday.
It doesn't seem that Spacey is too impressed with what is on offer.
"I think that Frank Underwood would look at this particular year and find it as amusing as I do," the star said.
"The good thing is, look, I think at the end of the day, the United States has, time and time again, despite sometimes where we thing "wow, they are really crazy…there is some crazy shit going down', we generally get it right eventually. And I think we will probably get it right in the end."
Spacey singled out Donald Trump – deliberately muddling his name with that of the power-hungry politician depicted in the hit drama.
In a separate interview, the actor was asked by CNBC what President Underwood would debate with Donald Trump.
"He wouldn't," Spacey joked.
"There would be a terrible accident on the way to the debate and it would be terrible and very sad".