Stock markets and oil prices rebound but is the volatility over?
Comments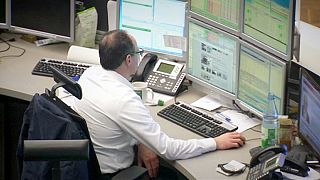 Europe's stock markets rebounded on Thursday after a turbulent few days that wiped trillions off companies' share values.
That followed European Central Bank President Mario Draghi's comments which raised hopes of further monetary stimulus.
At the same time oil rebounded from Wednesday's more-than-12-year lows.
But nobody knows if the volatility is over.
At the World Economic Forum in Davos there is much hand-wringing and fear for the future.
Hussain Al Nowais from the United Arab Emirates is chairman of Al Nowais Investments, a private regional holding company based in Abu Dhabi. He said there were several reasons for the slump: "The drop of oil prices, the Chinese economy slowing down, tightening liquidities of the bank, all are affecting the economy. I hope the picture will look brighter as we go on in the year, but for the moment it doesn't look bright."
John Nelson, the chairman of the Lloyd's of London insurance group, said: "What I myself am nervous about is that if we continue to get these market jolts it will begin to undermine consumer confidence in some of the developed world."
Yet, Nelson added: "There are some concerns about the Chinese financial structure – banking structure – but if you look at the world generally the strength, the financial strength, of financial institutions is much stronger than it was say seven or 10 years ago."
For now the consensus among business leaders and policymakers in Davos that currently we are not heading into a repeat of the 2008 financial crisis, but that governments have to act quickly and decisively to prevent the worst occuring.