Former Yugoslav Republic of Macedonia reopens borders
Comments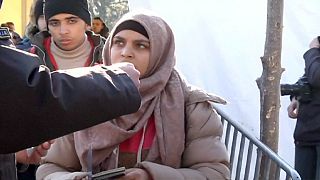 The Former Yugoslav Republic of Macedonia (FYROM)reopened its borders to migrants on Thursday (January 21), but only those who declared Germany or Austria as a final destination on their entry documents.
At the Greece-FYROM border, more than 1,500 people have been stranded for up to two days. Migrants braved temperatures as low as -15 degrees Celsius to cross frozen Balkan borders en route to western Europe, visibly unprepared for winter and in increasing danger from the cold.
"I stayed in Greece for 20 days, I wait for my paper 20 days, in Greece, and waiting two days, in Thessaloniki and come to here, very cold, but the UNICEF are very good, big room all thing I need is here," Syrian migrant Muhammad Saudi said.
In order to enter Macedonia, migrants were required to show an ID paper with a stamp and a written statement of their final destination, recorded by Greek officials.
Those with papers showing a final destination of Austria or Germany were being allowed to proceed.
This follows Vienna's decision to only allow in migrants staying in Austria or heading to Germany.
Vienna wants to cap the number of asylum claimants this year at less than half of last year's figure.
It has said it would bar all migrants looking to travel on through Germany to other European countries.