Al-Shabaab gun and bomb attack targets Somalian beach-side cafés
Comments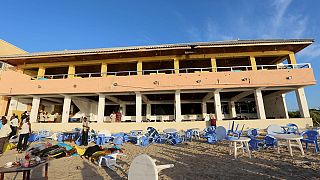 Militant group Al-Shabaab has claimed responsibility for a bomb and gun attack in and around beach-side restaurants in the Somalian capital, Mogadishu.
Somali police said at least 19 civilians died.
The first of two car bombs went off just after 7pm local time. Witnesses say at least five gunmen approached from Lido beach soon after before a second explosion half an hour later.
Somali Prime Minister, Omar Abdirashid Ali Sharmarke, condemned the assualt.
I unreservedly condemn the barbaric attack @ Liido. My thoughts and prayers are with the victims #Somalia

— @SomaliPM (@SomaliPM) January 21, 2016
An Al-Shabaab spokesman told Reuters news agency they were in control of the Beach View café and said there were "many casualties" both inside and outside the building.
Al-Shabaab makes a come back to Twitter after >2 years of hiatus. The group attacked a popular beach in Mogadishu. pic.twitter.com/W8tefqZCmX

— Mukhtar Ibrahim (@mukhtaryare) January 21, 2016
The group, which is aligned with al-Qaeda, stormed an African Union military base in the south of Somalia last week. It says it wants to overthrow the country's Western-backed government and impose a strict version of Islamic law nationwide.