Zarif condemns US 'addiction to pressure and coercion'
Comments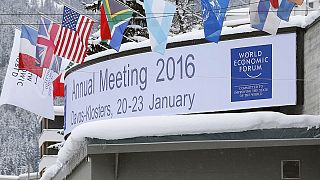 Iran's foreign minister has condemned what he called the United States' "addiction to pressure and coercion."
Mohammad Javad Zarif was refering to new sanctions against Tehran over ballistic missile tests.
"They [the US] should learn that they cannot impose their views on others through sanctions and pressure and they also need to understand that if they want to dent that mistrust of the Iranian people vis-a-vis the United States, they should not continue with the policies that created the mistrust," said Zarif ahead of an appearance at the World Economic Forum in the Swiss resort of Davos.
The new measures were introduced just one day after Washington lifted sanctions against Iran over its nuclear programme. Javad Zarif has called the fresh sanctions unlawful.
Swiss special police have surrounded the meeting of the rich and powerful with a ring of steel in the wake of recent terror alerts in Europe.
LIVE: Zarif says there is no need for Saudi Arabia to engage in a conflict with Iran. https://t.co/vWoYOXVvenhttps://t.co/9E2ks8tYY1

— Reuters Davos (@Reuters_Davos) January 20, 2016