Student slaughter in Pakistan as gunmen attack university
Comments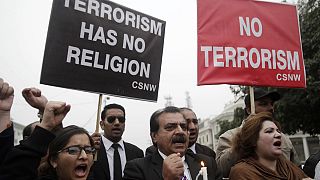 Student groups took to the streets of the Pakistani city of Karachi to condemn the attack at the Bacha Khan University in Charsadda in the north west of the country.
Students from DSF in Karachi protest against attack on #BachaKhanUniversity. pic.twitter.com/z53×3TLrwf

— Pakistan Photos (@PhotosPakistan) January 20, 2016
As many as 30 people were killed when four gunmen scaled a wall under thick mist and proceeded to open fire.
Terrorism attack on Bacha Khan University.
20 shaheed and several injured.
Pray for all of them.
sheeco7</a> <a href="https://twitter.com/786_1214">786_1214pic.twitter.com/v0siRnV1WX

—

ASIAN

POETRY

(@Asian_Poetry) January 20, 2016
One of the protesters questioned the level of protection at the university and the intelligence capabilities of the state: "The security forces know that universities are a target, why did they not provide adequate security? For how long will we in Pakistan be targeted and killed by the Taliban? For how long?''
An off-shoot of the Taliban, Hakimullah Mehsud, claimed responsibilty for the killings.
At least 22 people were killed during an attack at Bacha Khan University in Pakistan https://t.co/VWYGHWXFwupic.twitter.com/slKiURKO1o

— The New York Times (@nytimes) January 20, 2016
Tehreek-e-Taliban Pakistani, the main Taliban organisation in Pakistan, described the attack as un-Islamic.
Army chief visits Bacha Khan University, Charsadda hospital after deadly attack https://t.co/bdy7zc4xIfpic.twitter.com/uoKFvkYM96

— Geo English (@geonews_english) January 20, 2016
The four gunmen were also killed in the bloodbath.
In 2014 130 students were killed at a school in the city of Peshawar, 50km from Charsadda.