Ex-leftist German radicals' DNA found after failed robbery
Comments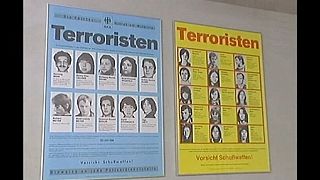 Three members of Germany's defunct radical leftist Red Army Faction carried out a failed armed robbery last year to finance their life on the run, according to investigators . The three were identified through DNA tests carried out on an abandoned car used in the raid.
Two men and one woman have been in hiding since the group disbanded in 1998 after decades of violence against anti-establishment figures such as bankers and government officials
The group which was spawned from student politics in the 1960s and the anti-Vietnam war movement, killed an estimated 34 people between 1970 and 1991.
Their campaign of terror peaked in 1977 when it kidnapped and killed industrialist Hanns Martin Schleyer, filming him during his captivity.
Prosecutors identified the three members wanted for last year's robbery attempt to steal 1 million euros from an armoured vehicle in a town near Bremen, as Ernst-Volker Staub, 61, Burkhard Garweg, 47, and Daniela Marie-Luise Klette.
They are also suspected of involvement in an attack on a prison near Frankfurt in 1993, and stealing 1 million Deutsche marks (now 511,000 euros) from an armoured car in July 1999.
Prosecutors believe Klette took part in a shooting at the U.S. embassy in Bonn in 1991 and a failed car bombing of a Deutsche Bank building a year earlier.
#Germany: RedArmyFaction linked to attempted robbery involving rocket launcher https://t.co/vw0YM1tRCT

— Rick Carp (@rick_carp) January 19, 2016